Travel aficionados, gather round! You know that exhilarating rush when you find the perfect luggage piece? The one that makes you daydream about exotic locations and runway-ready airport looks? Well, brace yourselves. Discover the ultimate travel companion with our comprehensive guide on the best carry-on luggage by Samsonite.. Trust me; these picks are nothing short of spectacular.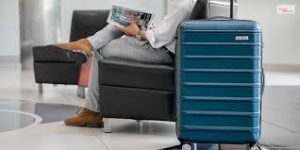 1. Samsonite HyperFlare Spectra: Gliding through the airport corridors will feel like a dream with the Spectra. A fusion of vibrant hues and hypnotic patterns, this one's for those who enjoy a splash of color in their travels. And with its ergonomic design, your shoulders will be thanking you post-journey.
2. Samsonite TitanFlex UltraLite: Ever wished your luggage had the strength of a Titan but felt as light as a feather? Enter TitanFlex. It's like Samsonite took our wishes, added a dash of magic, and voila! Robust and incredibly lightweight, it's no wonder this bag is a fan favorite.
3. The Samsonite WaveRider MeshTech: Picture this: a luggage piece with a breathable exterior. Sounds too futuristic, right? But MeshTech makes it a reality. Ideal for those tropical getaways, it ensures your belongings remain fresh, no matter the climate.
4. Samsonite VerveTech Rolling Tote: A carry-on that doubles up as a chic tote? Yes, please! VerveTech isn't just functional; it's fashion-forward. Perfect for those business trips where you need to transition from boardroom boss to evening elegance seamlessly.
5. Samsonite SkyBreeze AeroPulse: If your idea of fun is zipping through airport terminals at lightning speed, AeroPulse has your back. With 360° spinner wheels and a pulse-grip handle, it promises a smooth journey, both on and off the ground.
Travel pals, these aren't just bags; they're an experience. With Samsonite's legendary craftsmanship and innovative features, it's clear why these carry-ons stand out in a sea of luggage options.